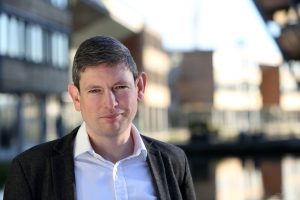 My name is Adam Forristal Golberg, and I'm Research Development Manager (Charities) at the University of Nottingham. Previously I was based in the Faculty of Social Sciences (again, at the University of Nottingham), supporting the Schools of Business and Economics. Before this, I was Research Manager for Nottingham University Business School.
Before the University of Nottingham, I worked at Keele University – first managing the Centre for Professional Ethics (2001-5), and then the Institute for Public Policy and Management (2005-2009).  Prior to that, I was a research student at Keele, completing an MPhil by research on the political philosophy of John Rawls.  In another life, I worked for PGL Travel, in charge of guest care at a children's activity holiday centre in Perthshire.
Journalism
In 2011 I participated as a panel member in a Guardian Higher Education Network 'live chat' on securing research funding.  Highlights are available on their website, as well as the full version.  I've had five blog posts re-published on the LSE Impact in the Social Sciences blog, and this blog has been featured in the Times Higher Education 'Scholarly Web' section on two occasions and a post on the usefulness of successful grant applications was republished on the Times Higher blog. I was also asked to write a piece on the demand management agenda and internal peer review processes for Research Professional, as well as articles on whether or not you should resubmit an unsuccessful application and on the 'Gollum' mistake in grant writing for Funding Insight (£, so links to my own versions). I'm now a semi-regular writer for Funding Insight.
In January 2023, my article on 'How I break bad news on grant applications' was published in Nature Careers.
Conference presentations
I am active in ARMA, and was Champion or co-Champion of the Research Development Special Interest Group from 2013 to 2016. I have presented a number of sessions for ARMA, either at the annual conference or as part of stand-along training sessions.
2012 – co-presented a session on Using Social Media in Research Support at the Association of Research Managers and Administrators (ARMA) conference in 2012, along with Phil Ward (Kent), David Young (Northumbria), and Julie Northam (Bournemouth). In
2013 – co-presented a Research Development Special Interest Group session with Jon Hunt (Bath) and in 2015 and 2016 I convened another session for the SIG on current issues in Research Development.
2016 – co-presented a session on advice and support given to grant applicants by research development staff with David Evans and Jennifer Jennings of the University of Birmingham.
2017 – co-presented a session on starting a new role, with Rommany Jenkins (Birmingham City), Emma Bowen (Durham), and Alisha Peart (Northumbria).
2020 – presenter and panellist for an ARMA webinar on research culture.
2022 – Convenor and co-presenter of ARMA's first 'advanced' research development peer learning session.
Training and Consultancy
I have limited capacity for further external work, but I am looking for opportunities and would be happy to discuss further.
I have provided training sessions on grant-getting tips and strategies for two other UK universities and one European university
I've also presented on 'What to do next if your research grant is unsuccessful' for the BBSRC-funded UK Animal Welfare Research Network which I would be happy to tailor to other audiences
I have reviewed a book proposal and manuscript
Funding Panel Experience
I served on the East Midlands Research for Patient Benefit (RfPB) Regional Advisory Committee (RAC) from January 2015 to January 2019, looking at research grant applications from a public and patient involvement perspective, as well as undertaken occasional review work for other National Institute for Health Research (NIHR) funding schemes.
You can contact me via email or find me on LinkedIn (if you must) or twitter.