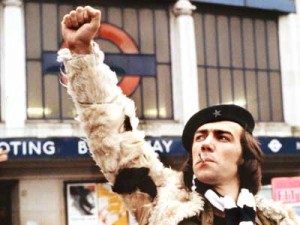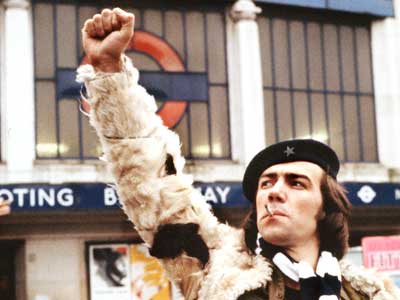 My headline, unfortunately, is a classic QTWTAIN ('question to which the answer is no') because I can't see any evidence that the employers want to negotiate or seek alternatives or engage in any meaningful way. You can find an admirably clear (and referenced) summary of the current situation at the time of writing here.
And if you want to read my previous wibblings from a previous dispute about why you should join the union, see the second half of this post.
All I'll add is that we've been here before as regards pensions cuts… again and again and again… only previously it's been salami slices, or at least compared to what's being proposed now. These previous changes, we were told, would put the scheme back on the right track, and were necessary due to increased life expectancy etc and so on. So my question is… were those previous claims about past changes just straightforward lies, or have things got worse? And if they've got worse, is that wider economic conditions, or incompetence? And either way, why are the people responsible taking huge pay increases? Why is my pension scheme on the way to becoming a regular in the pages of Private Eye?
Anyway… I wanted to talk about deliberative democracy. I listened to a really interesting Reasons to be Cheerful podcast (presented by Ed Miliband and Geoff Lloyd) on deliberative democracy the other week. If we ask everyone what they think on a particular topic, the problem is that not everyone will be equally well informed, will have the necessary time to follow the arguments and find the evidence, or will come to the topic with an open mind. The idea of deliberative democracy is finding a small, representative group, giving them full access to the evidence and the arguments and expertise, and then, through deliberation, work towards a consensus decision if possible.
Trial by jury follows this model very closely, though we don't typically think of a jury as an expression of democracy. These are twelve ordinary people, selected at random (with some exceptions and criteria), and trusted to follow the arguments in a criminal trial. But we regard this as fair, and as legitimate, and my perception is that there's widespread faith in trial by jury as an institution.
Could we extend this to other issues? For example, the current strike action about cuts to the USS pension scheme. At the moment I'm reading a lot of criticism about the methods of calculation, the underpinning assumptions, and some very questionable motivations and methods of reaching and spinning decisions by Universities UK. But some of that criticism comes from people who aren't experts in this area, but have relevant expertise in other related areas, or in areas that share a skill set. Such cognate-experts might well be right, but equally there might be good explanations for some of the peculiar-looking assumptions. In keeping with the Dunning-Kruger Effect, might such people be overestimating their own expertise and underestimating those of genuine experts? I don't know.
Hence my interest in deliberative democracy… get a representative group of pension scheme members (academic and APM, a range of ages (including PhD students and retired staff), union and non-union members, a range of seniority and experience and subject area/specialism), give them access to experts and evidence, and let's see what they come back with. A report from such a group that contends that, yes, the pension scheme is in trouble and an end to defined benefit is the only thing that will keep it sustainable, would have credibility and legitimacy. On the other hand, a report that came back with other options and which denied that case for the necessity for such a drastic step, would also be persuasive. This would be a decision by my peers who have taken more time and more trouble than I have, who have access to expertise and arguments and evidence, and who I would therefore trust.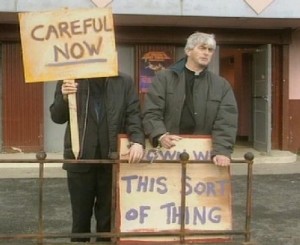 I strongly suspect that we have two very polarised actuarial valuations of the scheme – one, from the employers, which seems to me to be laughably flawed (but again, Dunning Kruger… what do I know?), and another, from UCU, which may turn out to be laughably optimistic. Point is, I don't know, and I don't want to make the mistake of assuming that the truth must lie somewhere in between.
One objection is that this might be little different to recent accusations about university Vice Chancellors sitting on the committees that set their salaries. However, a range of ages and career stages could mitigate against this – younger group members would surely resist any attempts to allow the scheme to limp on until older members are likely to be retired but which would leave them with little or nothing. We can also include information about affordability and HE finance in general to ensure that we don't end up with recommendations that are completely unaffordable.I'd also like to think that those who chose careers in academia or in university management – in most cases ahead of more lucrative careers – have a commitment to the sector and its future.
And no-one's saying that the report of such a group need be binding, but, a properly constituted group undertaking deliberative work with access to evidence and expertise would carry a great deal of authority and would be hard to be simply set aside. It's an example of what John Rawls called 'pure procedural justice'. Its outcome is fair because it is set up and operates in a way that's fair.
So I guess that's my challenge to Universities UK and (to a lesser extent) the UCU too. If, UUK, your argument is that 'There Is No Alternative' (TINA) – which we've heard before, ad nausem – let's see if that's really the case. Their complete refusal to engage on the issue of the ending of defined benefit doesn't bode well here, nor does the obvious disingenuous of offering "talks" while refusing to negotiate on the issue the strike is actually about. But let's see if UCU's claims bear scrutiny too. No-one is immune from wishful thinking, and some elements within UCU seem to enjoy being on strike a bit too much for my liking.
Because, frankly, I'd quite like (a) to get back to work; and (b) have some sort of security in retirement, and the same for generations of academics and APM staff to come.