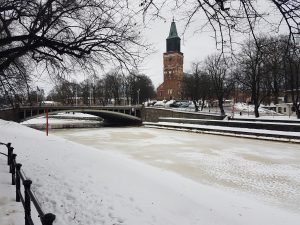 Last month Back in February, I was delighted to be invited to give the keynote talk at the University of Turku's inaugural Funding Friday event. Before the invitation I didn't know very much about Finland (other than the joke that in Finland, an extrovert is someone who stares at your shoes) and still less about the Finnish research funding environment. But I presumed (largely, if not entirely correctly) that there are a great many issues in common, and that advice about writing grant applications would be reasonably universal.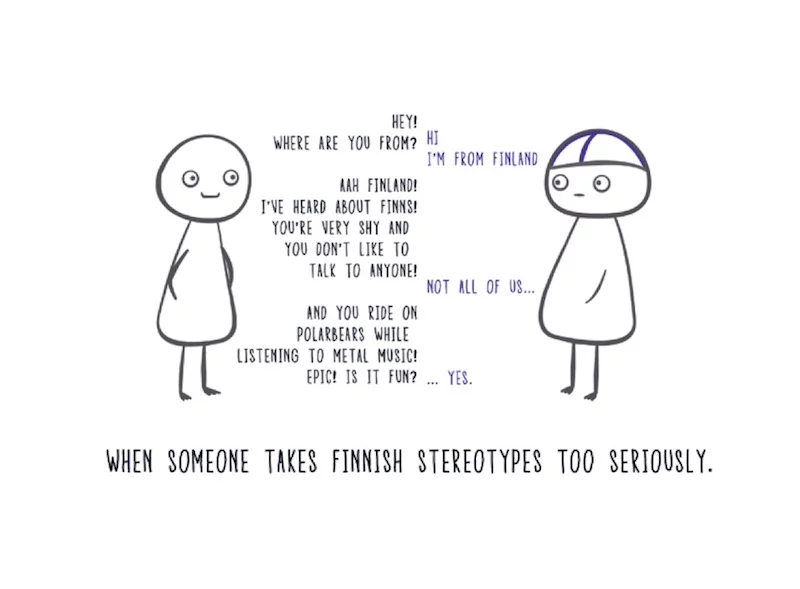 When I reached the venue I was slightly surprised to see early arrivals each sitting at their own individual one-person desk. For a moment I did wonder if the Finnish stereotype was true to the extent that even sharing a desk was regarded as excessively extrovert. However, there was a more obvious explanation – it was exam season and the room doubled as an exam hall.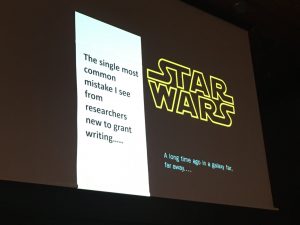 I was very impressed with the Funding Friday event. I was surprised to realise that I'd never been to a university-wide event on research funding – rather, we've tended to organise on a Faculty or School basis. The structure of the event was a brief introduction, my presentation (Applying for Research Funding: Preparations, Proposals, and Post-Mortems) followed by a panel discussion with five UTU academics who served on funding panels. Maria guided the panel through a series of questions about their experiences – how they ended up on a funding panel, what they'd learnt, what they looked for in a proposal, and what really annoyed them  – and took questions from the floor. This was a really valuable exercise, and something that I'd like to repeat at Nottingham. I'm always trying to humanise reviewers and panel members in the minds of grant applicants and to help them understand the processes of review and evaluation, and having a range of panel members from across academic disciplines willing to share their experiences was fascinating. Of course, not everyone agreed on everything, but there seemed to be relative uniformity across panels and academic disciplines in terms of what panel members wanted to see, what made their jobs easier, and what irritated them and made things harder.
In the afternoon, we had a series of shorter sessions from UTU's research funding specialists. Lauri spoke about applying Aristotle's teachings on rhetoric (ethos, pathos, and logos) to structuring research grant proposals – a really interesting approach that I'd not come across before. What is a grant application if not an attempt to persuade, and what's rhetoric if not the art of persuasion? Anu talked about funding opportunities relative to career stage, and Johanna discussed the impact agenda, and it was particularly fascinating to hear how that's viewed in Finland, given its growth and prominence in the UK. From discussions in the room there are clearly worries about the balance between funding for 'blue skies' or basic research and for applied research with impact potential. Finally, we heard from Samira, a successful grant winner, about her experiences of applying for funding. It's great to hear from successful applicants to show that success is possible in spite of dispiriting success rates.
To resubmit, or not to resubmit, that is the question
I'd arrived with the assumption that research – like almost everything else in the Nordic social democracies – would be significantly better funded pro rata than in the UK. (See, for example, the existence of an affordable, reliable railway system with play areas for small children on intercity trains). However, success rates are broadly comparable. One significant difference between the UK and Finland funding landscapes is the prevalence of the UK 'demand management' agenda. This limits – or even bans – the re-submission of unsuccessful applications, or imposes individual or institutional sanctions/limits on numbers and timing of future applications. The motivating force behind this is to reduce the burden of peer review and assessment, both on funders and on academic reviewers and panel members. Many UK funders, especially the ESRC, felt that a lot of the applications they were receiving were of poor quality and stood little chance of funding.
Finnish funders take an approach that's more like the European Research Council or the Marie Curie Fellowship, where resubmissions are not only allowed but often seem to be a part of the process. Apply, be unsuccessful, get some feedback, respond to it, improve the application, and get funded second or a subsequent time round. However, one problem – as our panel of panel members discussed – is that panel membership varies from year to year, and the panel who almost nearly funded your proposal one year is not going to be the same panel who reviews the improved version the following year. For this reason, we probably shouldn't always expect absolute consistency from panels between years, especially as the application will be up against a different set of rival bids. Also, the feedback may not contain the reasons why an application wasn't funded nor instructions on how to make it fundable next time. Sometimes panels will point out the flaws in applications, but can be reluctant to say what needs to be said – that no version of this application, however polished, will ever be competitive. I've written previously about deciding whether to resubmit or not, although it was written with the UK context in mind.
The room was very much split on whether or not those receiving the lowest marks should be prevented from applying again for a time, or even about a more modest limitation on applying again with a similar project. Of course, what the UK system does is move the burden of peer review back to universities, who are often poorly placed to review their own applications as almost all their expertise will be named on the bid. But I also worry about a completely open resubmission policy if it's not accompanied by rigorous feedback, making it clear not only how an application can be improved, but on how competitive even the best possible iteration of that idea would be.
One of the themes to emerge from the day was about when to resubmit and when to move on. Funding (and paper, and job) rejection is a fact of academic life, calling for more than a measure of determination, resilience, bouncebackability, (or as they say in Finland) sisu . But carried too far, it ends up turning into stubbornness, especially if the same unsuccessful application is submitted over and over again with little or no changes. I think most people would accept that there is an element of luck in getting research funding – I've seen for myself how one negative comment can prompt others, leading to a criticism spiral which sinks an initially well-received application. Sometimes – by chance – there's one person on the panel who is a particular subject expert and really likes/really hates a particular proposal and swings the discussion in a way that wouldn't have happened without their presence. But the existence of an element of luck does not mean that research funding is lottery in which all you need do is keep buying your ticket until your number comes up. Luck is involved, but only regarding which competitive applications are funded.
I've written a couple of posts before (part one, and part two) about what to do when your grant application is unsuccessful, and they might form the beginnings of a strategy to respond and to decide what to do next. At the very least, I think a thorough review of the application and any feedback offered is in order before making any decisions. I think my sense is that in any system where resubmissions are an accepted feature, and where it's common for resubmissions to be successful, it would a shame to give up after the first attempt. By the twelfth, though…
Watching your language
I was fascinated to learn that responsibility for training in research grant application writing is shared between UTU's research development team and their English language unit. National funders tend to give the option of writing in English or in Finnish, though writing in English makes it easier to find international referees and reviewers for grant applications – and indeed one of my Business School colleagues is a regular reviewer.
One issue I'm going to continue to think is about support for researchers writing grant applications in their second or additional language. English language support is an obvious service to offer for a university in a country whose own language is not commonly spoken beyond the borders of immediate neighbours, and particularly in Finland where the language isn't part of the same Indo-European language group as most of the rest of Europe. But it's not something we think about much in the UK.
I'd say about half of the researchers I support speak English as a second language, and some of the support I provide can be around proof reading and sense-making – expressing ideas clearly and eliminating errors that obscure meaning or which might irritate the reader. I tend to think that reviewers will understand some minor mistakes or awkward phrasing in English provided that the application does not contain lazy or careless errors. If a reviewer is to take the time reading it, she wants to see that the applicant has taken his time writing it.
I think most universities run courses on academic English, though I suspect most of them are designed for students. Could we do more for academic staff who want to improve their academic English- not just for grant writing, but for teaching and for the purposes of writing journal papers? And could we (and should we) normalise that support as part of professional development? Or do we just assume that immersion in an English-speaking country will be sufficient?
However… I do think that academics writing in their second language have one potential advantage. I've written elsewhere about the 'Superabundance of Polysyllabic Terminology' (aka too many long words) error in grant writing, to which native English speakers are more prone. Second language academics tend to write more clearly, more simply, and more directly.  Over-complicated language can be confusing and/or annoying for a native English speaker reviewing your work, but there's a decent chance that reviewers and panel members might speak English as a second language, who will be even more irritated. One piece of advice I once heard for writing EU grant applications was to write as if your application was going to reviewed by someone reading it in the fourth language while waiting to catch their flight. Because it might well be.
It was a real honour to visit Turku, and I'd have loved to have stayed longer. While there's  a noticeable quietness and a reserve about Finnish people – even compared to the UK – everyone I met couldn't have been more welcoming and friendly. So, to Soile, Lauri, Anu, Johanna, Jeremy, Samira, the Turku hotel receptionist who told me how to pronounce sisu, everyone else I met, and especially to Maria for organising …. kiittos, everyone.